YETS in het museum
*
*Doe je mee?
Stedelijk Museum Schiedam vraagt YETS jongeren die het leuk vinden om samen een expo te maken over straatkreten. Welke stickers of graffiti op straat vind jij tof? En welke statements belangrijk? Met coaches die kunstenaar zijn ga je voor en na de zomer aan de slag. Je hoeft niet creatief te zijn of van kunst te houden. Meedoen is gratis. De expo opent op 20 oktober met jullie feest!
Met wie ga je dit doen?
Samen met een groep YETS jongeren, coach Melvin en coach Luca, en kunstenaarsduo J&B.
Straatkreten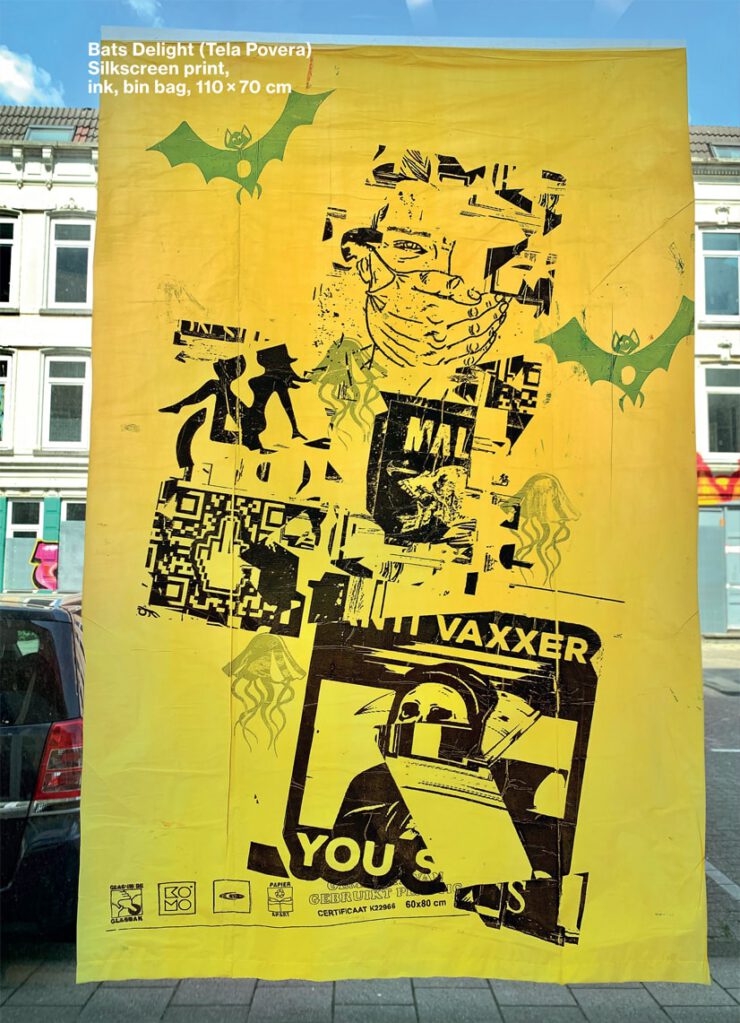 Werk van J&B
Wat ga je doen?
Voor de zomervakantie zijn er twee workshops bij YETS. Je leert de kunstenaars kennen en gaat samen met hen en jullie coaches Schiedam in om foto's te maken van straatkreten die je tegenkomt. Dat kan van alles zijn. Bijvoorbeeld posters, stickers, graffiti en reclame. Over sport, muziek, iemands mening en ga zo maar door.
Daarna gaan jullie kijken wat jullie het tofste vonden van wat je hebt gezien. Wat inspireert jou of wat vind jij belangrijke statements? Dit is de basis van de expo die jullie gaan maken in het museum.
De workshops zijn bij YETS. De eerste twee zijn op woensdag 7 juni 2023 tussen 18.00 uur en 19.00 uur, en op maandag 12 juni 2023 tussen 18.00 uur en 19.00 uur.
Na de zomervakantie gaan jullie tijdens een paar workshops aan de slag met de expo. En jullie worden in het museum rondgeleid door jongeren die daar nu een expo over hun Curaçaose roots hebben gemaakt.
In oktober gaan jullie zelf een hele muur in het museum pimpen, onder begeleiding van kunstenaars J&B.
Feest
Op 20 oktober is de tentoonstelling af en dat vieren we met een feest in het museum! Jullie denken mee over hoe we dit vieren. Jullie mogen vrienden en familie uitnodigen om te laten zien wat jullie hebben gemaakt.
Zo geef je je op:
Leuk dat je mee wil doen! Je kan een DM sturen naar de Instagram van YETS of je kan hier je gegevens achterlaten. Dat mag ook als je nog iets wil vragen.
YETS in het museum - 2023
Ik wil graag meedoen aan de expo van YETS in het Stedelijk Museum Schiedam of ik wil eerst nog even iets vragen.

Foto bovenaan: Werk in de tentoonstelling 'Glashard. Post-graffiti in De Glasfabriek'.